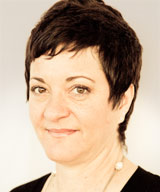 Sara Hume, SVP, Operations Manager, has primary responsibility for operations. She also supports the Chief Compliance Officer in the areas of finance and compliance.
Sara comes to us with over ten years' experience in the trust and financial management industry. She worked previously at Santa Fe Trust, Inc, an independent trust company, where she began as a Trust Administrative Assistant. After moving into project management, Sara was promoted to AVP, Support Services Manager, and was tasked with oversight of Administrative Support and Trust Operations. She then held both administrative and operations roles at First Santa Fe Advisors, most recently as the Client Relations and Operations Manager.
Prior to working in the financial industry, Sara worked with her husband running Chicoma Builders, a high-end residential custom design and construction company in the Santa Fe area. She also co-managed Chicoma Restoration, a water damage restoration business. Both Sara and her husband are native northern New Mexicans.